This article gives a complete overview of Thunderpick eSportsbook and Casino. We will look at the site's features, including its eSportsbook, casino games, player safety, their accepted deposit options, and much more. Online crypto casinos, such as Thunderpick, have been used more frequently since their inception in the gambling industry because of the many benefits they offer. These types of online casinos also offer players exciting features, games, and experiences that they can't find anywhere else. Choosing the right online crypto casino comes down to choosing the one that best suits each player's specific needs.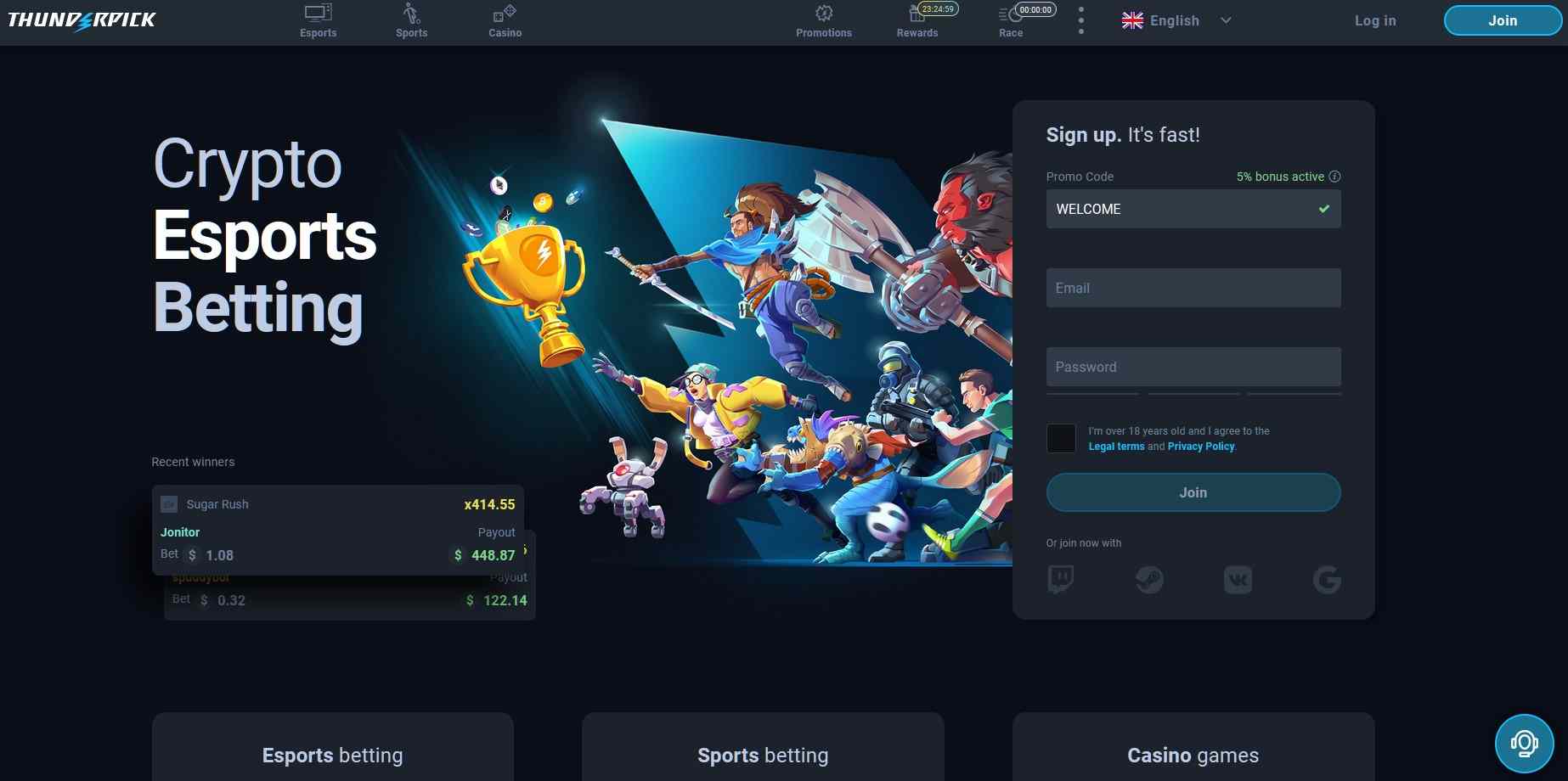 Thunderpick
Founded in 2017, Thunderpick is a crypto-only online casino that acts primarily as a bookmaker but also provides traditional sports odds and over 2000 casino games for its many players. For currencies other than cryptocurrencies, Thunderpick uses the euro. Thunderpick's vision is to continue to be the benchmark for eSports, continue to provide a community-centric experience for all gamers, and see itself as a sportsbook built by gamers for gamers.
Thunderpick offers video game fans and bettors an experience like no other: they really want the player to feel like part of the game every time they place. ESports fans will appreciate the fact that Thunderpick allows them to bet on a wide range of eSports events with fast and free payment solutions that are easy to use. New players can get a welcome bonus of 100% of their first deposit, with a maximum bonus amount of up to €550.
Accessible via mobile, tablet, laptop, or desktop, Thunderpick serves hundreds of thousands of gamers worldwide and provides services in seven languages: English, Spanish, Russian, French, German, Portuguese, and Chinese.
Security
Thunderpick provides common security features such as an SSL certificate and also allows their many users to set up 2-factor authentication, which provides a safe way to not only keep accounts and profiles secure but also provide important security measures to ensure player authentication whenever they try to log into their accounts.
Thunderpick adheres to the General Data Protection Regulation, which is a law that protects user data and information and requires secure sites such as Thunderpick to inform and protect user information. With respect to any capture of personal information by Thunderpick for users to log in and access their site, the bookmaker collects and protects user information such as data usage, email and IP addresses, and browser versions to protect its users from potential attacks or data leaks.
Esports
As an eSportsbook designed for gamers by gamers, Thunderpick allows players to bet on the latest professional eSports leagues and tournaments such as the Intel Extreme Masters or the Valhalla Cup. Titles such as DOTA2, CS:GO, League of Legends, StarCraft 2, Rainbow Six, Overwatch, Heroes of the Storm, Hearthstone, Call of Duty, Fortnite, Rocket League, NBA2K and Valorant.
Thunderpick not only allows players to place their bets on these eSports matches but also to watch the matches played via live streams (presented by Twitch) while they are being played without ever having to leave the Thunderpick website, allowing for betting opportunities and an exhilarating experience overall that most video game enthusiasts will love.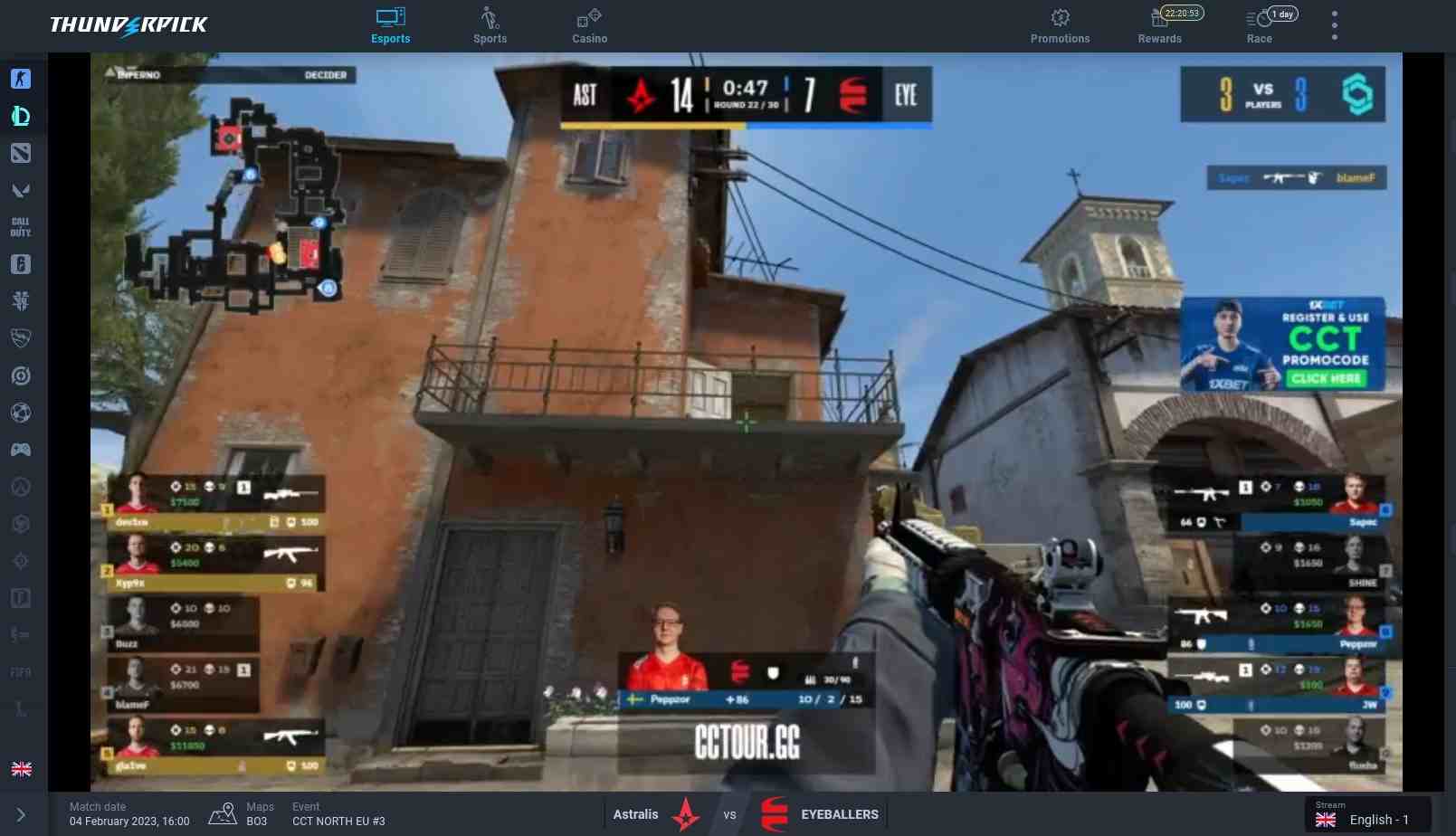 Crypto Games
Apart from the esports matches that players can bet on, Thunderpick offers its members more than 2900 casino games, including classic casino games. From slots and live dealers to the latest eSports and sports odds, Thunderpick offers tons of games and activities for players to choose from and enjoy the game.
With original casino games such as Thunder Crash and Thunder Spin, players will enjoy betting on fun casino games with classic titles such as roulette, video poker, baccarat, blackjack, and many more.
If players are looking for a live casino experience, Thunderpick also offers live dealer tables where members can interact with live hosts that provide an authentic casino experience from anywhere in the world. Some of the live casino games players can expect to sit at the table include Sweet Bonanza Candyland, Monopoly Live, Video Blackjack, Lightning Roulette, and many other games with a live host that make the player feel like they are sitting in a real casino.
As mentioned, Thunderpick has over 2,000 slot games for players to take for a spin. With great visuals, sounds, and a very user-friendly interface, Thunderpick slots offer a personalized casino experience that players will enjoy discovering. Popular slot games to look for include Neon Villians DoubleMax, Bloxx Artic, The Big Score, Triple Wild, HipHopPop, Hearts Desire JP, Bounding Luck, Domnitor's Treasure, and Potion Spells.
Thunderpick also offers a host of lottery games for players, with interactive games that make scratch games entertaining and fun. Lottery games include Bonanza Wheel, Old West, Signs of Fortune, Santa's Wild Pick, Cupid's Scratch, Football Scratch, and Lottery Ticket.
Affiliate Program
Thunderpick offers its members the ability to top up their wallets outside of promotions and bonuses, which includes their Refer A Friend referral system. Through this system, members can recommend their friends to sign up and join them at Thunderpick, earning them a potential 30% revenue share. Partnership opportunities are also available through Thunderpick's Affiliates page, where potential partners can sign up to earn up to 50% revenue share.
Club VIP
As a community-driven casino and eSportsbook, Thunderpick rewards players who have played the longest and also made the highest bets with an invitation to their prestigious Thunder VIP Club. The Thunder VIP Club offers its most valuable players gifts and bonuses that no one else can receive as well as priority withdrawals, allowing these players to quickly withdraw their winnings with instant processing. In addition, these VIP members can also enjoy higher bet limits with an increased maximum bet that other regular players can only dream of. VIP members also have no transaction or withdrawal fees and even benefit from higher withdrawal limits.
Payment Options
There are no deposit fees, but the only acceptable payment options at Thunderpick are in the form of cryptocurrencies. Hence the fact that this online casino is strictly a website based on cryptocurrencies. Players can successfully make a crypto deposit from their wallets via their account page by clicking Deposit More on the Last Deposit Card.
Thunderpick supports the following cryptocurrencies:
Bitcoin, Bitcoin Cash, Dogecoin, Ethereum, Ripple, Litecoin, Tron, and Tether. These cryptocurrencies are the only ones that will be accepted at Thunderpick, which players can deposit into their account using the site's easy-to-use deposit methods.

Thunderpick, as a cryptocurrency-based online casino, accepts deposits in the form of cryptocurrencies such as Bitcoin, Bitcoin Cash, Dogecoin, Ethereum, Litecoin, Ripple, Tron, and Tether. There are no deposit fees at Thunderpick, and players can fill their wallets directly from their account page. In addition, players can make a deposit using a Thunderpick gift card, which can be purchased and even given to another player as a gift for them to make a deposit with.
Thunderpick allows players to make withdrawals in the form of cryptocurrencies, such as Bitcoin, Bitcoin Cash, Dogecoin, Ethereum, Litecoin, Ripple, Tron or Tether. Thunderpick has no withdrawal fees, however, there are withdrawal limits. For regular players, these limits can be up to €5000 per cryptocurrency. The processing time for these withdrawals can range from 5 minutes to 30 minutes, although according to blockchain standards and practices, withdrawals can sometimes take up to 24 hours. In addition, VIP Club members will have higher withdrawal limits as they play more often than regular players and bet higher amounts than the average player.
Licenses AND Regulations
Thunderpick.io is owned by Paloma Media B.V., is powered by Betgenius has a Curacao gambling license, and is regulated by the laws of Curacao.
Customer Support
Need help navigating the Thunderpick website? The live support icon is always one click away and allows players to chat instantly and get help with any issues they may encounter. Players can also use this live support option as a way to get the answers they're looking for without having to do too much browsing. Thunderpick also has various social media channels such as Facebook and Twitter where members can easily send a private message to the channels if they need support.
To answer the most common questions that players or site visitors may have, Thunderpick offers a helpful FAQ page that lists detailed answers regarding withdrawals, deposits, and sign-up issues and offers plenty of solutions to these potential issues.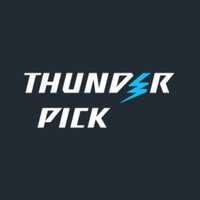 Conclusion

Thunderpick
is definitely one of the best, if not the best, cryptocurrency-based casinos that offer top-notch eSports odds and provide a haven for players, bettors, and the entire gaming community. Where Thunderpick stands out the most from the rest of online casinos is its interactive gaming community, gamification features, daily giveaways, and video game-related quizzes that eSports fans and punters will absolutely enjoy. In addition to the reload bonuses, their VIP club, their monthly loyalty cards, and the lack of network fees, Thunderpick is one of the best cryptocurrency-based online casinos on the market today.
FAQ
• How do I start betting?
To start betting on Thunderpick:
1. Register your account via email, Steam, VK, Twitch or Google
2. Check your inbox for the verification email and confirm your account.
3. Make a deposit with Bitcoin or another cryptocurrency
4. Select a bet by clicking on the odds to add it to your bet slip.
5. Set a wagering amount in the betting slip (minimum 100 coins for match bets)
6. Place your bet and wait for the result!
6. Place your bet and wait for the result!
• What happens if a match is delayed or canceled?
If a match is suspended or postponed and is not resumed within 12 hours of the scheduled start time, the match will not be considered valid and bets will be refunded. If no official information regarding the new tee time is provided within the scheduled start time, all bets will be voided and all bets refunded. The exception to this is any bet on whether a team/player will advance to the next stage of a tournament, or win the tournament, which will remain valid regardless of a suspended or postponed match.
---
Benefits:
✅ Esports & live casino games
✅ Community: for players, by players
✅ Lots of cryptocurrency options
✅ Accessible via mobile, desktop, tablet
✅ Daily contests, quizzes, interactive game community
✅ Reload and referral bonuses
✅ 2FA authentication
Disadvantages:
⛔ Only crypto
⛔ Several restricted countries
---