Crypto Lending
Crypto Lending refers to the process by which crypto holders transfer their cryptocurrencies to a third party for Institutional and retail Lending while earning interest on a weekly or monthly basis.
Celsius Network
Celsius is a crypto borrowing and lending service that socializes its profits by giving back 80% to its users. Celsius users can earn in CEL token or in-kind interest on 32 cryptocurrencies going from 4.5% APY interest on their BTC, up to 11.5% in stable coins such as USDT, DAI and others.
The generated interest is paid every Monday and the interest rates are updated every week; unlike some of its competitors Celsius users funds are not locked and the weekly interest will be compounded (added to the initial capital/deposit that yields interest every week).
Best Feature: Flexible Withdrawals and compounding. Look out for offers such as $20 in BTC with your first deposit of $200 worth of currencies.
Crypto Cash Back
Whether it is at a gas station, a grocery shop or a doctor's appointment, you can earn crypto cash back while paying with FIAT money (everyday currency such as USD / CAD / EUR).
Crypto.com
As with Celsius look out for offers on the cards. Crypto.com has a wide range of services and perks that will increase your crypto earnings at every step. While it features a mobile wallet, centralized exchange, FIAT debit card, crypto lending/borrowing service and cashback coupon shop, we will mainly focus on its 2 biggest features: the best FIAT debit card you ever had and one of the highest paying crypto lending rates.
There are 5 tiers of debit cards ranging from the free midnight blue 1% cashback card to the 5% obsidian card. The concept is simple, load up the card with FIAT money from a regular bank card and spend it anywhere you want while earning cashback (in crypto CRO) for every single transaction. There are no minimum limits or restrictions on what you can do with it. Additionally, each card comes with increasingly more perks such as 100% cashback on Netflix, Spotify and Amazon prime, 10% cashback on Airbnb and Expedia and even access to Airport Lounges.
Like Celius, Crypto.com offers even better interest rates for Lending your coins through a fixed term deposit of 3 months, ranging from an annual 6.5% on BTC to 12% on stable coins like USDT. In this case, the weekly paid interest isn't compounded but can be freely traded, withdrawn or saved for a new fixed or flexible term deposit; keeping in mind thatthere is a minimum limit of around 100-200$ worth of any cryptocurrency.
Best feature: Cash back and high interest rates.
Time for Some Serious Money
Here is a list of Deposit and No deposit bonus available on BitcoinPlay.org.
Now that you have secured some amazing crypto products earning you a weekly income; it's time to make some serious money and maximize your winnings at Crypto Thrills Online Casino with the best promotions a casino can offer.
Right from the start, you will get a 100% first deposit bonus up to 1 BTC, to play on over 150 games including Live Dealer Tables, Roulettes, and Slot Machines. Don't forget to claim your Happy Hour 100 free spins, every day from 6 to 10 AM EDT.
Want even more? How about heading on to our promotions page to multiply the interest you receive from the platforms above. There are loads of awesome offers up for grabs!
Down on your luck? Crypto Thrills Online Casino has got you covered with a 20% cashback on losses. Learn more about all our promotions and corresponding T&C´s here.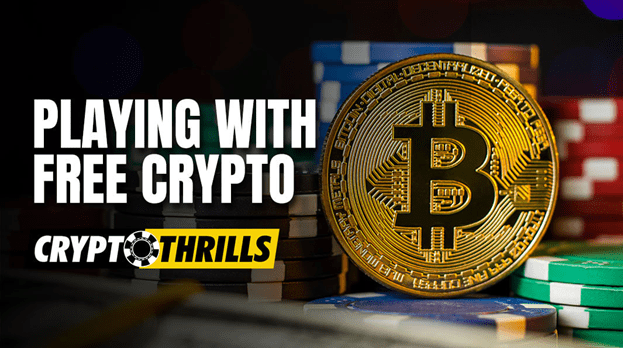 With the increasing quantitative easing of Central Banks around the World and the inevitable rise of inflation there is no better time to start buying and more importantly, start earning free crypto. In this article you will discover two new ways of passively earning crypto, as well as the special promotions Crypto Thrills Online Casino offers to make some serious money.